EBIOS Risk Manager software
Benefit from the strength of our EBIOS Risk Manager software, labelled by the ANSSI. Easily implement the different workshops of the method and automatically produce the reports and results expected for your cyber risk analyses.
Our Ebios Risk Manager software advantages
Agile Risk Manager : First EBIOS RM solution labelled by ANSSI
The Agile Risk Manager software has been developed in partnership with ANSSI for the tooling of its EBIOS Risk Manager method.
The ANSSI organizes a labeling process to guarantee the adequacy of the recognized solutions with the implementation of its method.
The version 1.0 of Agile Risk Manager was officially labeled for the Stand Alone label on June 04, 2019 during the CyberFestival marking the 10th anniversary of the ANSSI. The version 2.0 received the Client Server label at the FIC 2020, on January 29, 2020. This additional step marks not only the functional recognition of the application regarding the EBIOS Risk Manager method, but also its use in collaborative mode.
Agile Risk Manager capabilities
EBIOS Risk Manager software
Ebios Risk Manager software dedicated to cyber risk analysis
Agile Risk Manager is designed to support you in the handling and implementation of risk analysis using the EBIOS Risk Manager methodology. Take advantage of the strength of an adapted tooling to focus on the fundamental values put forward by EBIOS Risk Manager: knowledge, agility and commitment.
Workshop 1: Context and security base
Workshop 2: Risk origins
Workshop 3: Strategic scenarios
Workshop 4: Operationnal scenarios
Workshop 5: Risk treatment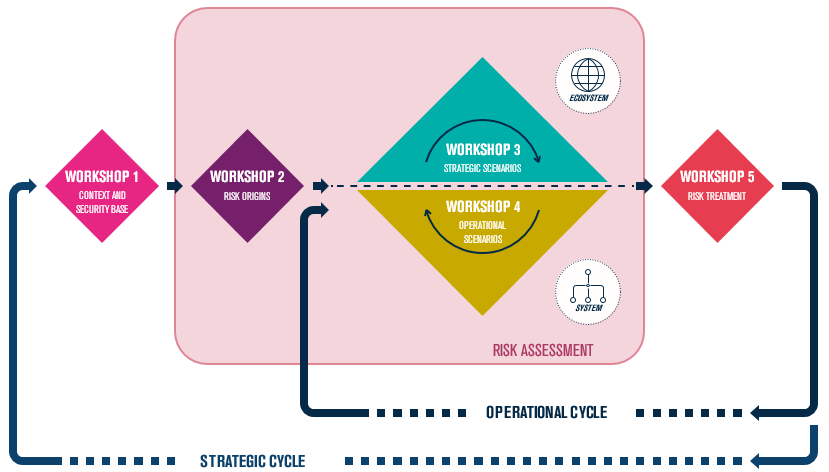 The power of a fully customizable cyber risk analysis tool
Go even further by benefiting from the strength of a complete tooling system, which guides you without restriction. Agile Risk Manager adapts its presentation to your needs, makes recommendations and gives you control over your choices. Personalize your experience:
Check into the integrated knowledge bases
Use the standard reference standards available (ISO 27001, IEC 62443, PSSIE, etc.)
Define your own corporate repositories to facilitate collaborative work
Select the workshops and activities to be carried out according to your objectives
A software allowing to Work in an agile and collaborative way
Agile Risk Manager is designed to offer the strength and ergonomics of an on-premise heavy client solution, while enabling complete and efficient collaborative work.
From the logging of modifications by different users, the management of their roles and access to your shared analyses, to the resolution of potential conflicts, everything is done to allow you to work efficiently as a team.
Recovery of your existing cyber risk analysis and of your repositories
Thanks to a data import, especially in Excel format, and a simple and open model, you can directly find your previous analyses in Agile Risk Manager. Keep your business capital to keep it alive in the tool, or simply to initiate new analyses.
This feature will also allow you to import data from standard repositories, as shown in the video opposite.
Model checker and collaborative review
Agile Risk Manager is built to support collaborative work around risk analysis. Each workshop is accompanied by an editable graphic representation allowing several people to work together in meetings.
To ensure the consistency of the data entered, and to optimize peer reviews on an ongoing analysis, rely on the model verification functionality, which uses simple business rules to point out unjustified or inconsistent elements. Navigate directly to the identified problem to facilitate its correction.
Reporting and documentation
Agile Risk Manager allows you to exchange data with customers or colleagues by exporting each of its tables to Excel and each graphic and matrix as an image. A global report can also be generated at any time in your analysis. The content of this report is customizable, and you can export it in different formats, such as HTML, Word and PDF.
Application example: LockerGoga
Discover an example of how to take a new attack into account in an existing analysis. Recently, the LockerGoga attack killed several people, including Norwegian company Norsk Hydro. This ransomware paralyzes an information system and encrypts data.
This video shows how this attack can be implemented in Agile Risk Manager, to provide the appropriate security measures.
Discover Agile Risk Manager
EBIOS Risk Manager software
The deployment of Agile Risk Manager is closely linked to the success of the EBIOS Risk Manager method and to the certification that our solution has obtained from ANSSI. This guarantee of quality, whether in terms of compliance with the method or the use of our solution in operational teams, has convinced many players in various fields. Whether you are an industrial company, a city, an expert from a consulting firm, our application will adapt to your context and help you in the realization of your risk analyses.
EBIOS Risk Manager software
Evaluation version available!
To quickly discover our Agile Risk Manager tool, labeled by ANSSI for EBIOS Risk Manager, do not hesitate to book directly a one-hour slot online with our expert!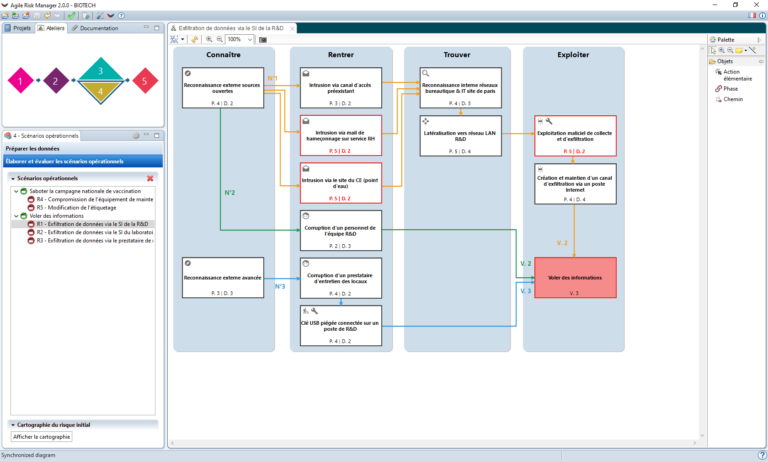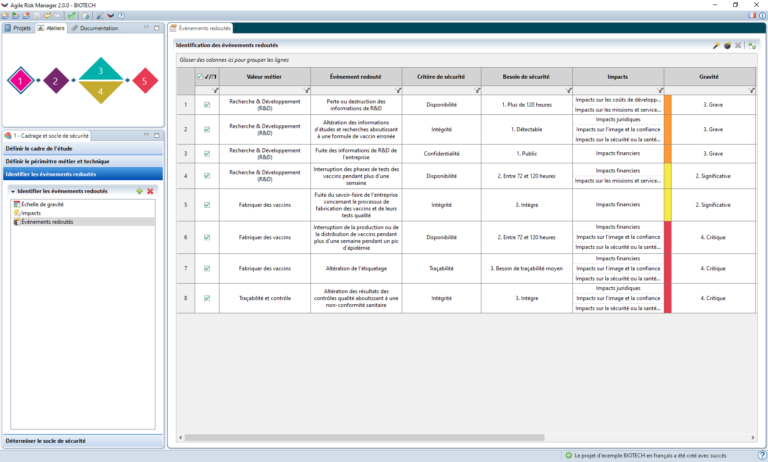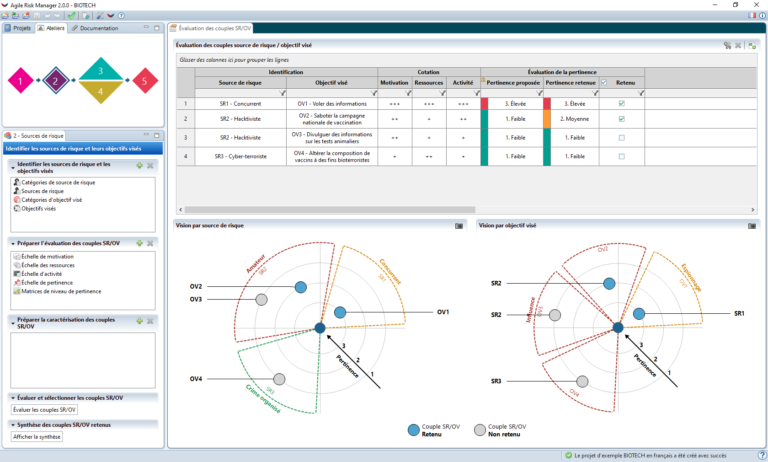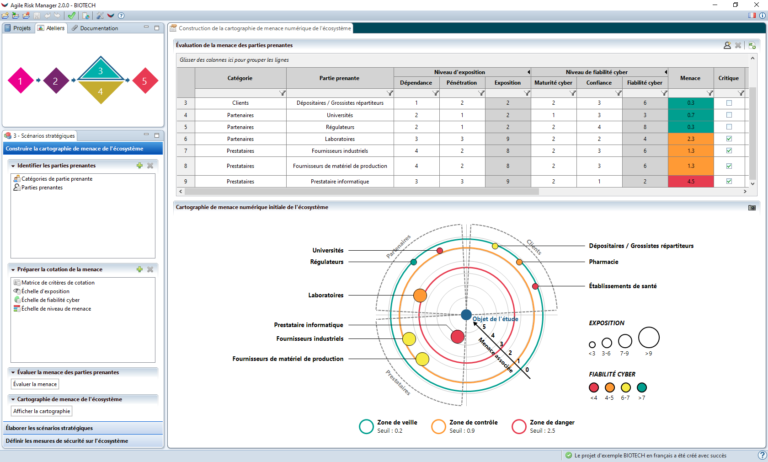 Are you already carrying out EBIOS 2010 analyses? Cyber Architect can assist you in performing and resuming these analyses.
As a complementary tool to Agile Risk Manager, they both can be used alone or together as a complete software suite.